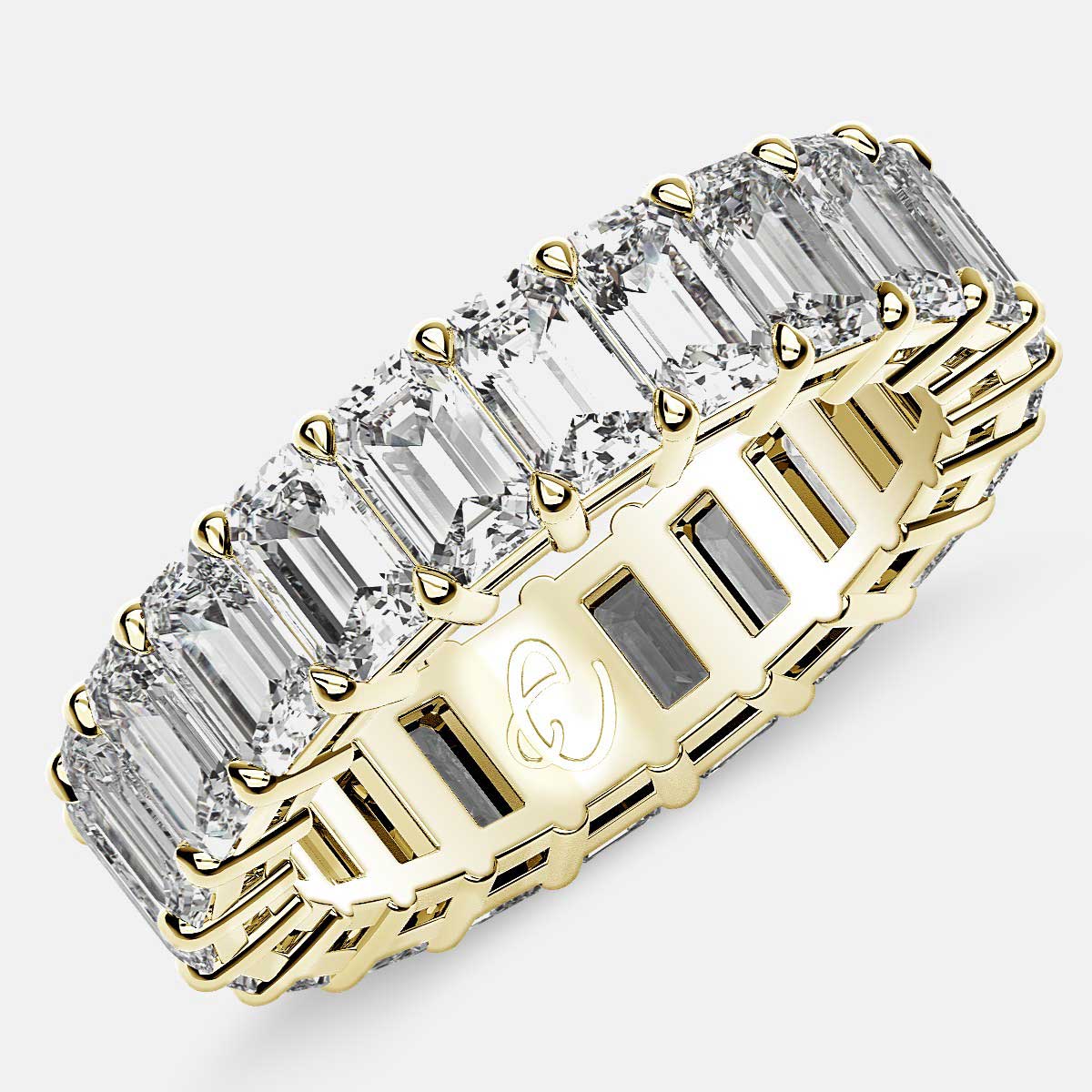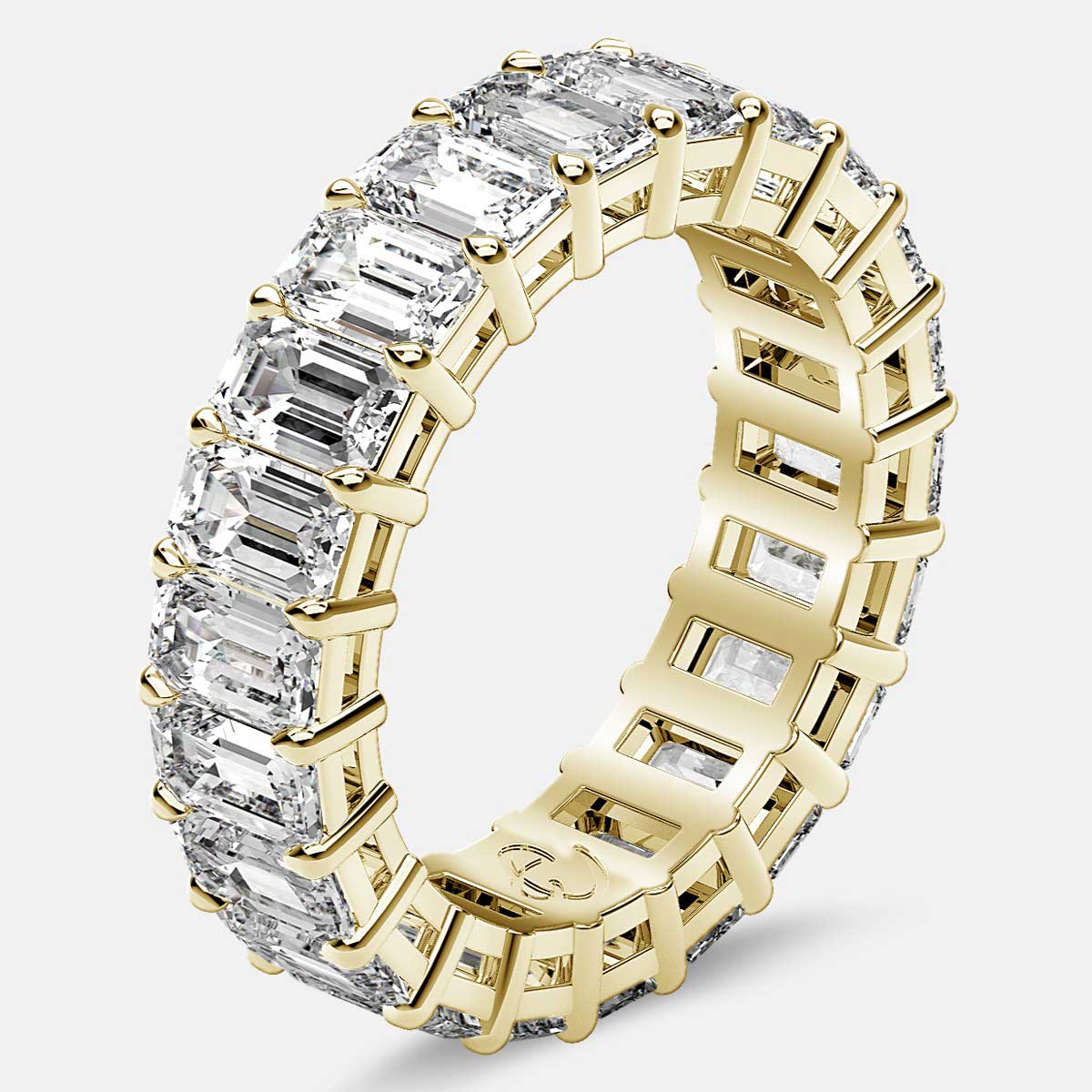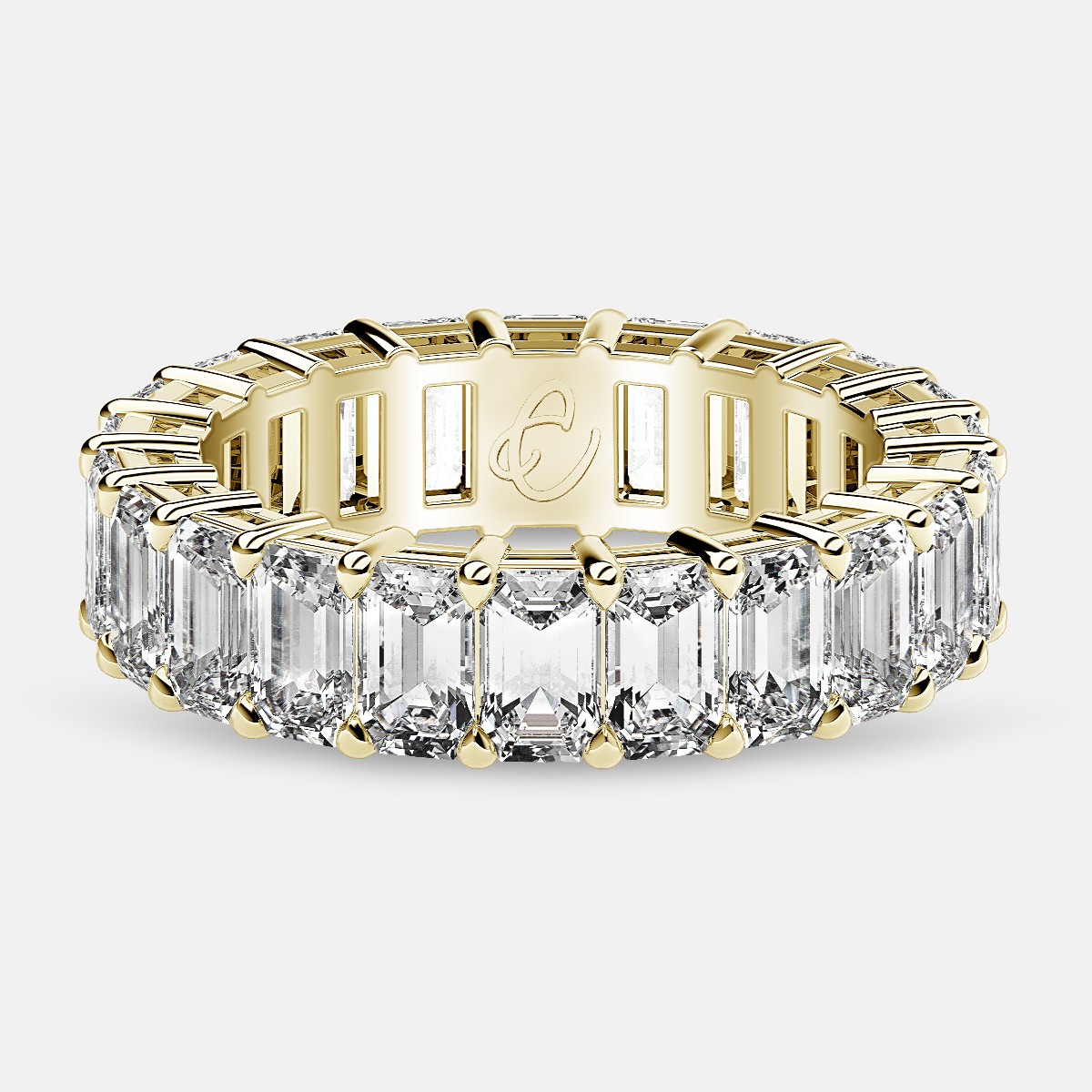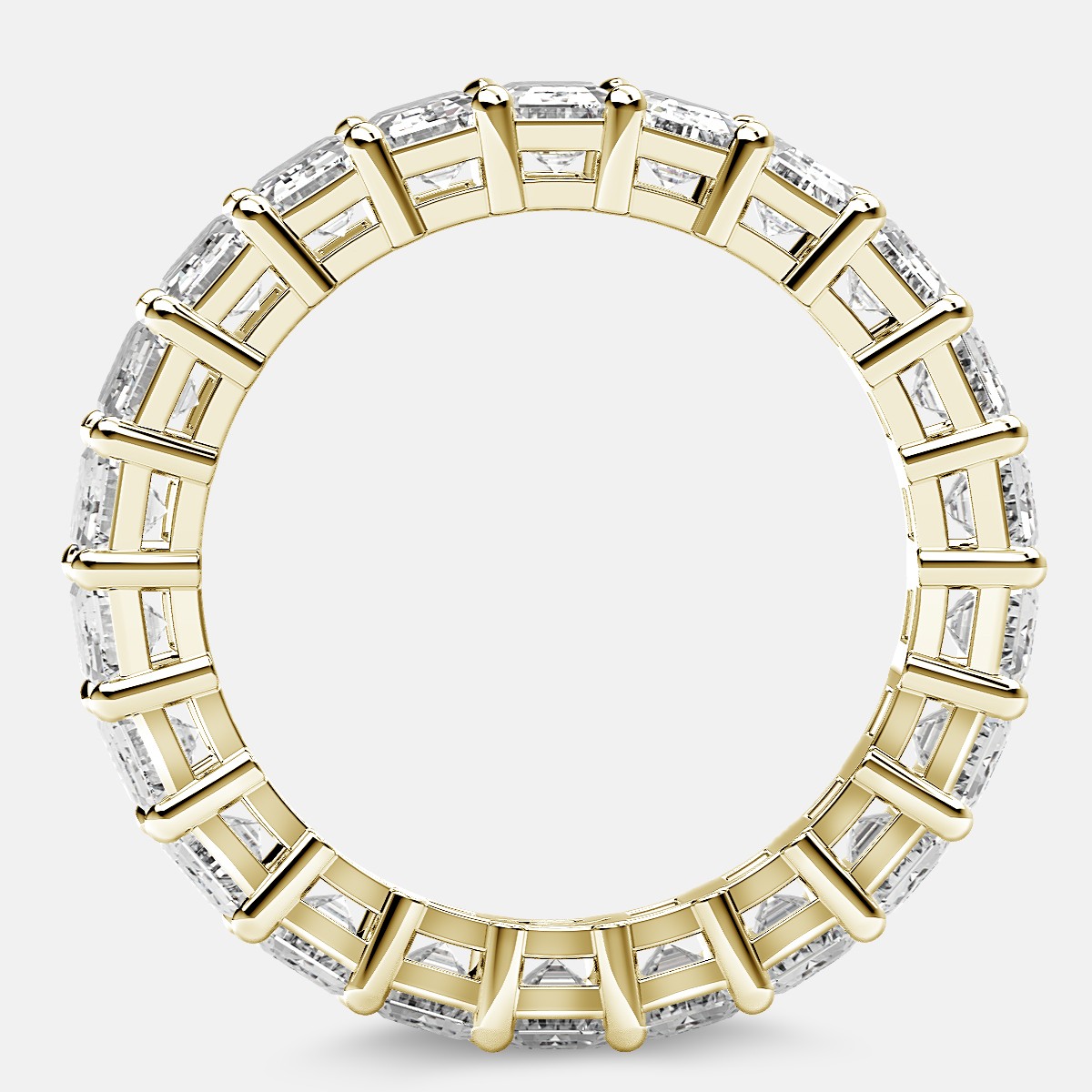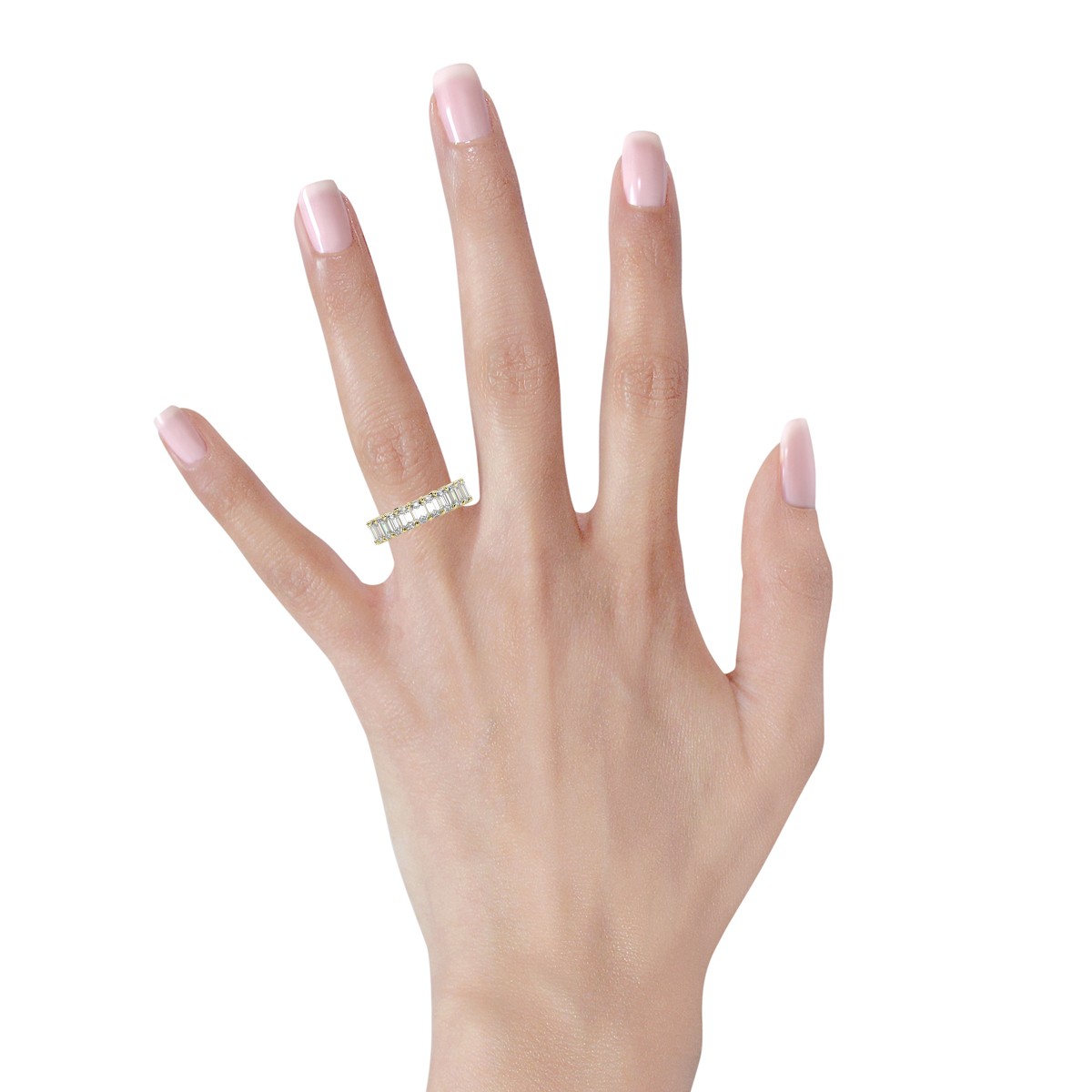 Click image to enlarge
Eternity Ring with Prong Set Emerald Cut Diamonds in 18k Yellow Gold
Total Diamond
Carat Weight
Minimum Individual
Diamond Carat Size
Starting From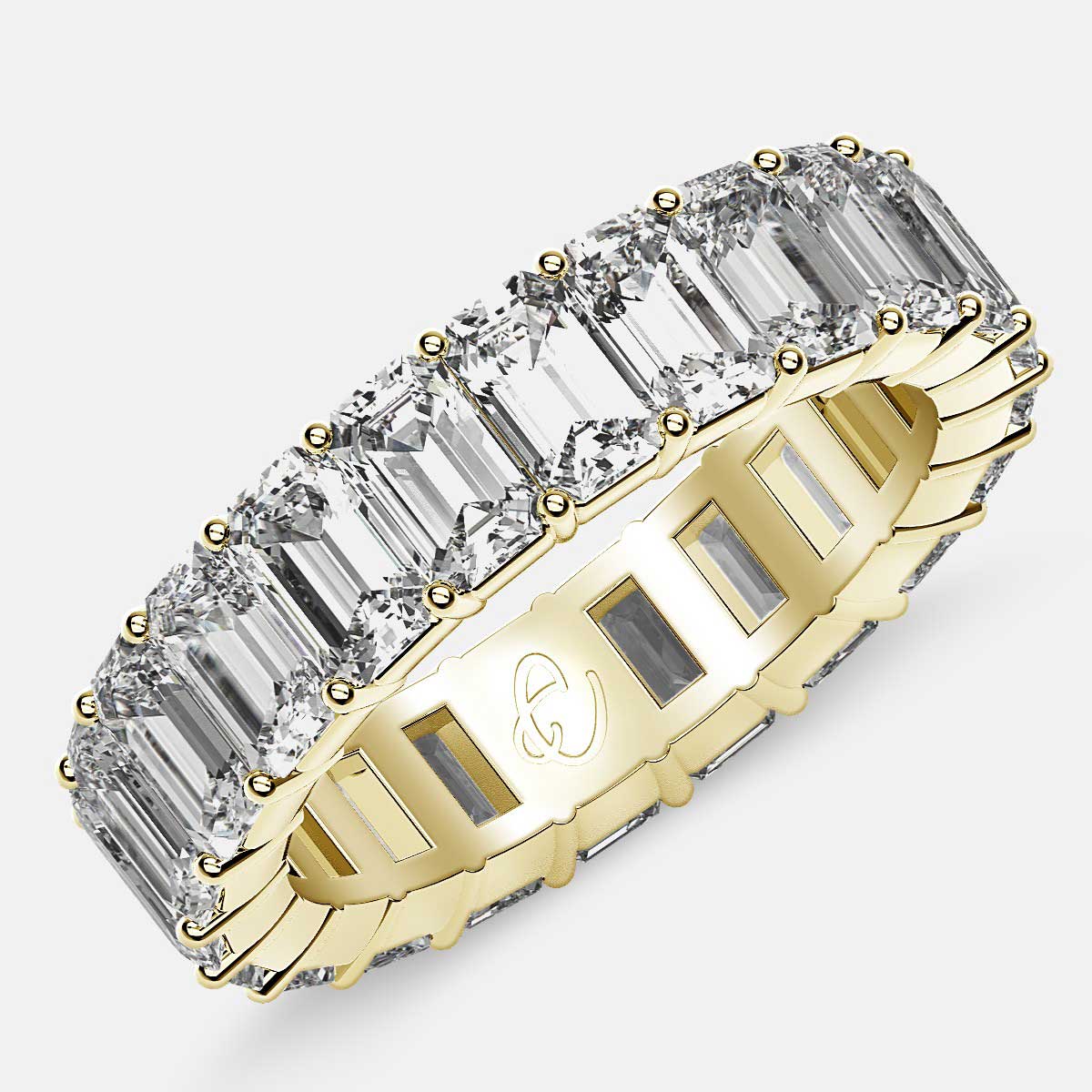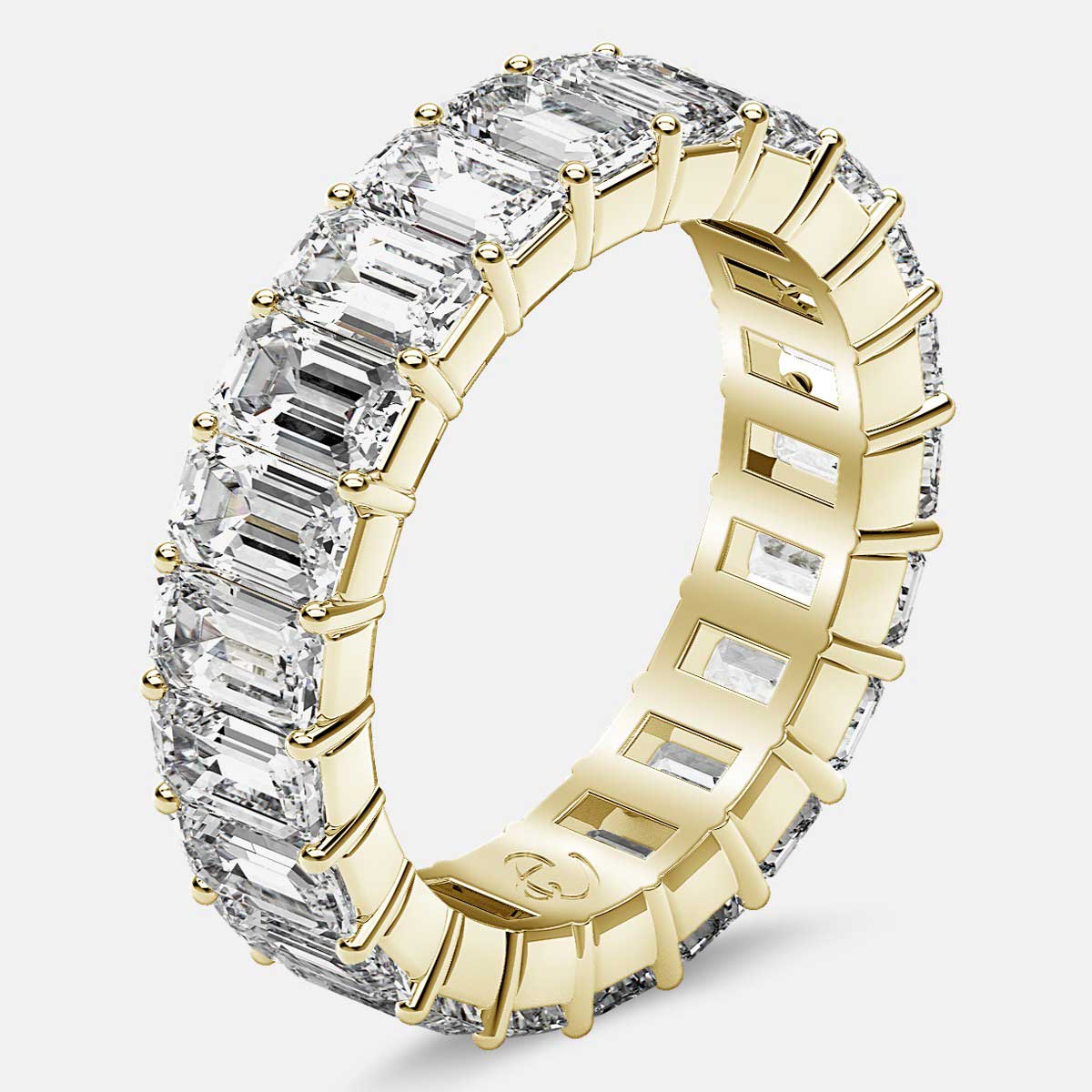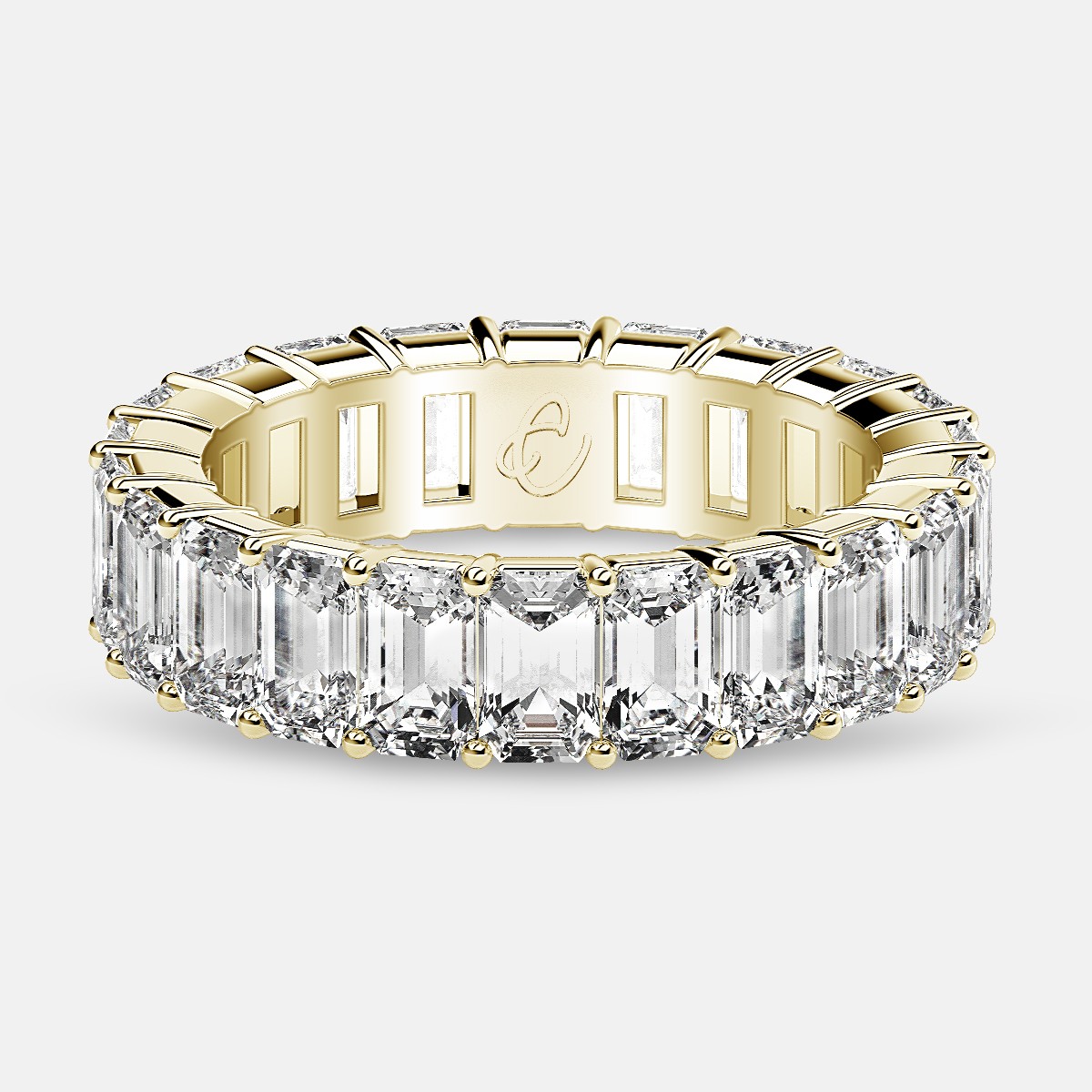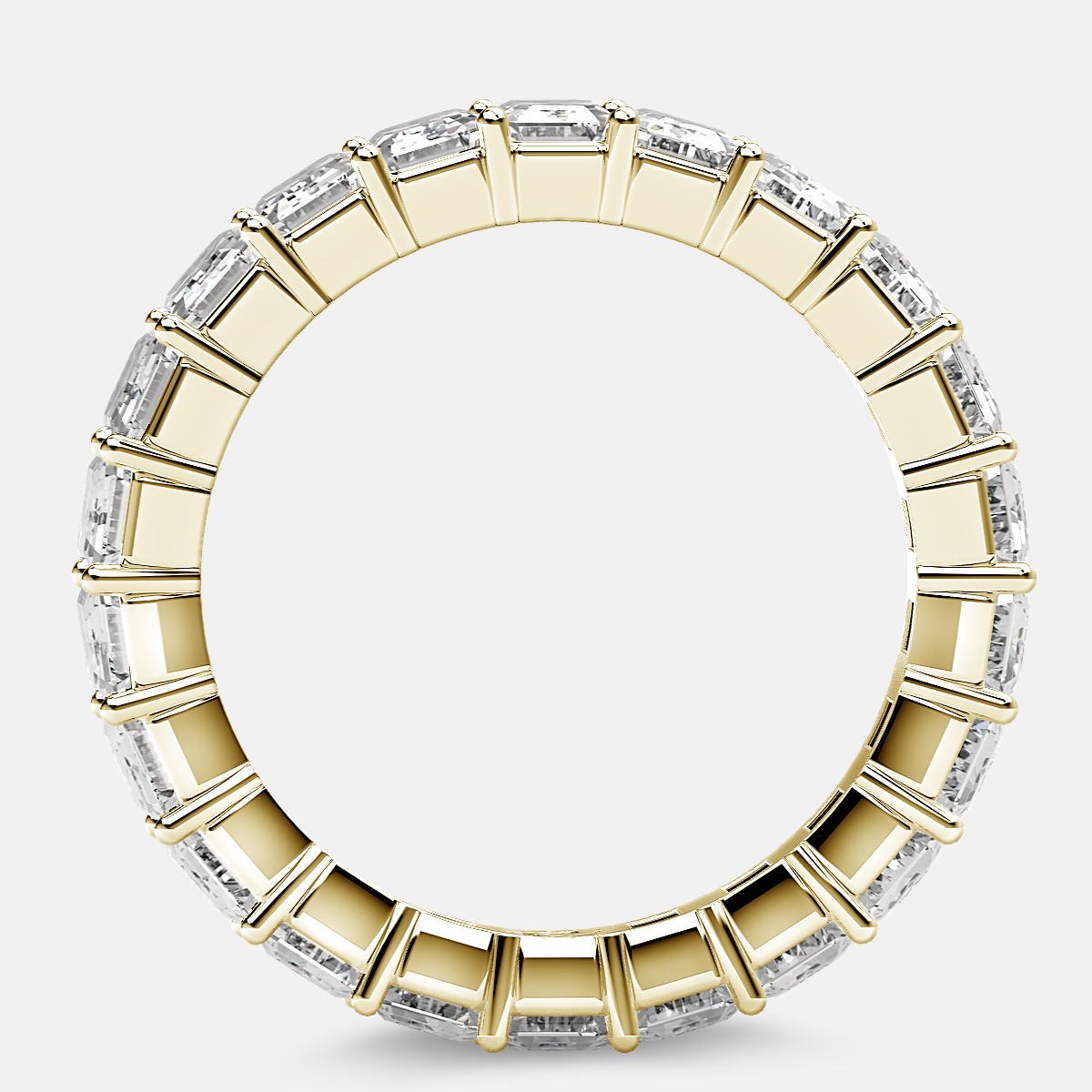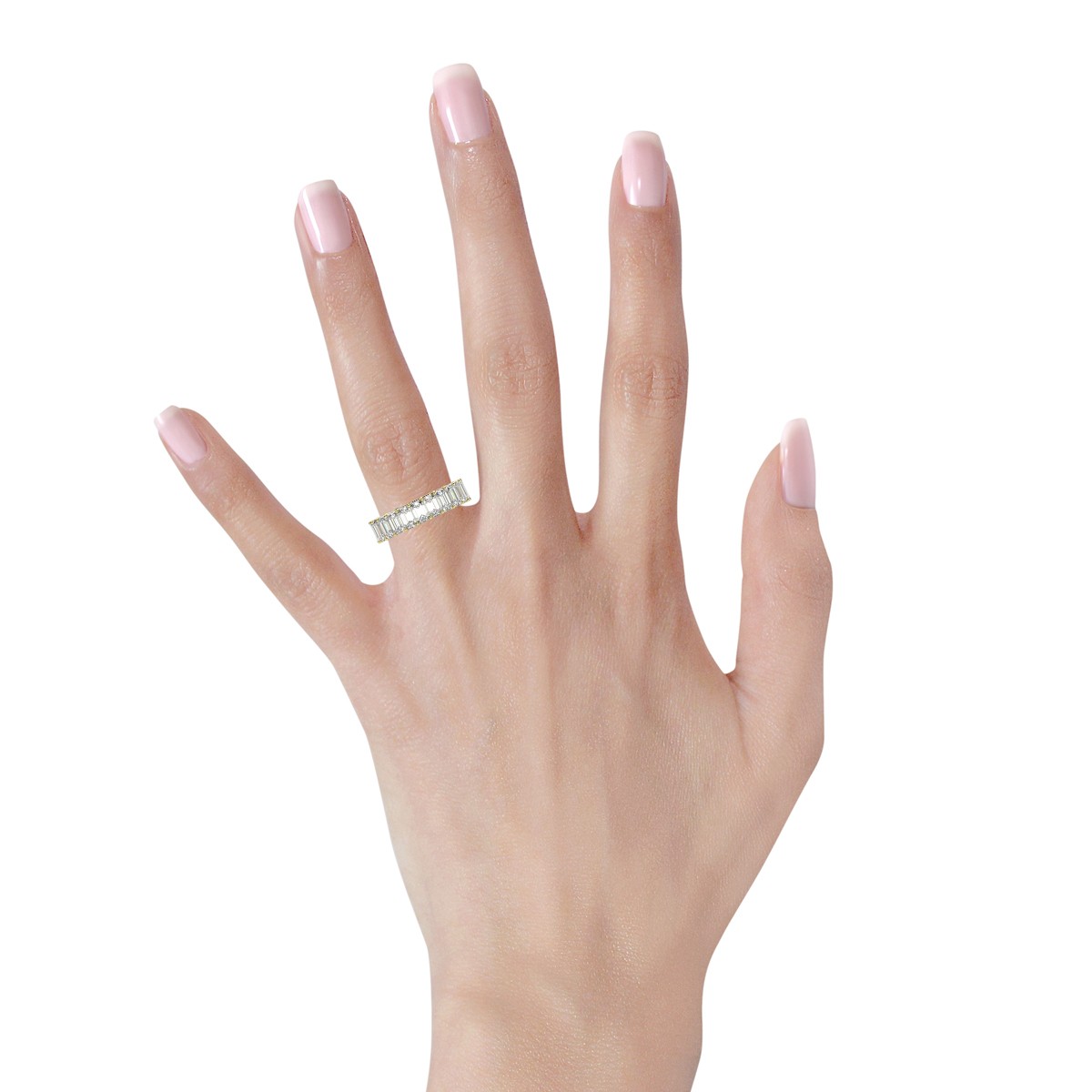 Click image to enlarge
Classic Eternity Ring with Emerald Cut Diamonds in 18k Yellow Gold
Total Diamond
Carat Weight
Minimum Individual
Diamond Carat Size
Starting From
Emerald Cut Diamond Eternity Band – A Gift for Every Occasion
The emerald cut eternity band and ring online that we have possesses an understated beauty. At once opulent without being ostentatious, the line of perfectly matched emerald cut diamonds creates a look that is attractive, streamlined, and sophisticated. Your emerald cut eternity band will shine like no other.
A Cut Above
What makes emerald cut eternity band and ring online so special comes down to three things: the optical qualities of the emerald cut, the time we take to make sure that every diamond is matched and GIA certified, and the expert craftsmanship that we put into creating your unique ring. Each diamond is selected by hand and matched for carat weight, color, clarity, and cut.
The Emerald Cut Diamond
Emerald cut diamonds are significantly different from all other diamonds. Emerald cuts have a sensuous geometry that make them extremely alluring. Instead of angled facets like you would find on a brilliant cut, the emerald cut is expertly crafted with facets that are all parallel to each other. Cut with extreme precision, this means that emerald cut diamonds return more white light to the eye. This means that your emerald cut diamond eternity ring performs with a spectacular series of flashes of pure white light while still giving a hint of scintillation. And, that's why we are home to the finest emerald cut eternity band and ring online you will ever get!
One Step at a Time
Also known as a "step cut" due to the parallel facets, the emerald cut diamonds in your eternity band have something else that make them stand out: a pleasing length to width ratio that echoes the proportion of one of the most beautiful ratios known to man. Known as the "golden cut," your emerald cut diamond eternity band contains a succession of beautifully matched diamonds that echo the same proportions of classical architecture. It is among the most attractive designs that you will ever see.


Pure Beauty
Clarity is important in an emerald cut eternity band and you can be sure that every diamond that we set comes with GIA certification, proving that the diamonds are expertly matched. Because the table facets tend to be larger in emerald cuts than in other cuts, our discerning expert eyes recognize that these very special diamonds demand a high level of precision when they are being sorted and matched. Even if a row of diamonds looks identical on paper, it takes a highly trained eye to recognize the subtleties that combine to form the balance and grace that is evident in your diamond eternity band. You can be certain that your ring will sparkle and flash with all the power, precision, and beauty that is possible.


Eyes on Eternity
The emerald cut eternity band and ring online from Eternity Us is eye catching. We strive for a level of consistency that ensures each diamond is securely set. Emerald cuts have beveled corners making consistency in the length central to creating the streamlined effect. Since each diamond is hand selected with the greatest knowledge and care, your ring represents years of training and searching. Your emerald cut diamond eternity band is a sparkling way to acknowledge that the search is over.