HOW ARE WE DIFFERENT

GIA Certified Diamonds
Premier jeweler specializing in GIA certified Eternity Rings only, ensuring every diamond in your ring is precisely matched.

Handcrafted to Perfection
Personally and perfectly crafted settings to complement the exact proportions of GIA certified diamonds handpicked exclusively for you.

Priced for Exceptional Value
Committed to providing exceptional value, with our GIA certified Eternity Rings competitively priced with similar rings without certification assurance.
ROUND DIAMOND
Brilliant and timeless... Explore the classic sparkle of traditional round diamonds.
View Collection
OUR PROMISE
Eternity Us believes that just like every diamond, your story is unique too! And we take stories personally.
ASSCHER DIAMOND
Vintage-inspired and architectural... Asscher cut diamonds reveal the beauty of endless, mirror-like reflections.
View Collection
PRINCESS DIAMOND
Radiates the energy of your love like the sun. Display the strength of your love with the modern geometry of princess cut diamonds.
View Collection
CUSHION DIAMOND
A nod to history and a love of all things vintage, cushion cut diamonds reflect the timelessness of your love.
View Collection
OVAL DIAMOND
Compliment your modern flair with the fashionable elegance of oval diamonds.
View Collection
OUR CONTRIBUTION
The finest diamonds for your greatest love.
HEART DIAMOND
Cherish your everlasting love. Let exceptional heart shaped diamonds tell your unique story.
View Collection
PEAR DIAMOND
Discover the classic beauty of pear diamonds - unique, fresh interpretations of classic beauty, as sophisticated as the woman who wears them.
View Collection
RADIANT DIAMOND
Illuminating like bright stars, radiant cut diamonds display dazzling shows of light.
View Collection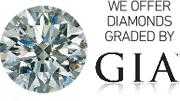 All diamonds in our eternity rings have been analyzed and graded by the Gemological Institute of America (GIA), the most respected laboratory in the diamond trade.
EMERALD DIAMOND
Discover the geometric simplicity, tradition, and precise transparency of emerald cut diamonds.
View Collection
WHAT OUR CUSTOMERS HAVE TO SAY
Andrew Delfin

My wife and I were coming up on our Anniversary, and I wanted to buy her some more diamonds. I found this ring online and she LOVES it!!! She couldn't be happier and wears it everyday. The purchase was easy online and delivery was exactly as stated. For the price it was also a great deal.

Caroline Phillips

Love love love the ring! In reality even nicer. I got the pear diamonds and they're clear and beautiful. I love everything about this company, they did not disappoint. Amazing quality and patient staff.

Melanie Galos

This is stunning, great size - it's not one of those skinny and delicate rings, this is more substantial and more of a statement piece. Well made and good quality as I have compared several rings at other jewelry stores. Thank you eternity us!!

April Reyes

Beautiful, just beautiful. I love it. This eternity band was exactly what I wanted. So classic looking and very sparkly.
BECOME A BRAND ADVOCATE AND RECEIVE A $500 INSTANT CREDIT ON YOUR PURCHASE.
OUR MISSION :
#EternityUs' goal is to enable and educate consumers around the world to get the best quality and value for their eternity ring.
HOW DO I BECOME A BRAND ADVOCATE ?

Spread the Word !

Once you receive your ring, let your admirers and network of friends know about eternityus.com!
Like. Share & Follow

We love to be featured on instagram, facebook, youtube or any other social media platform to spread the word. Simply take a picture or video of your ring and tag us #EternityUs.
Terms & Condition :
Any instant credit from signing up to be a brand advocate will not be refunded in case of return. A maximum of one sing up per customer. Your participation in becoming a brand advocate is voluntary.
You must be 18 years of age or above to participate in this promotion. Please ensure if uploading a video it does not have any loud noise or any distracting noise to take away from the audio of the video. If you upload a picture or video it must not contain any material which is in anyway defamatory, obscene, unlawful, harmful, offensive or inappropriate or which infringes the rights of any third party. You also agree not to advertise or promote third parties or your own goods or services. By uploading your pictureor video you hereby grant us an exclusive, irrevocable, license to use, edit, reproduce, distribute, transmit, broadcast, make available and display your picture or video (or part of your video) without charge by any medium or method now known or later invented including without limitation online or on television to be exercised in our sole discretion throughout the world in perpetuity. As this video will become our property on submission, you agree that we may permit other parties authorized by us to market the video on the behalf of Eternity Us. You are responsible for the content of your picture or video. You promise that you are fully authorized and entitled to up load pictures or video in accordance with these terms and conditions, and that doing so you will not infringe the copyright or other rights of any third party, or infringe any applicable laws or regulations. You promise that you have all necessary licenses, rights, permissions and consents to enable you to upload the pictures and video and to authorize us to use them. You agree if requested to show us these licenses, rights and/or permissions, you will provide it on request. We will not sell your information to any 3rd party company.