Ring Metal Options
All rings produced by Eternity Us are made in either 18K gold or platinum. In gold, we offer 18K white, yellow or rose gold.
In 1906, the United States passed the 'National Gold and Silver Stamping Act', which requires all gold jewelry to be marked with karats on the inside or back of the item.
All Eternity Us rings come stamped with either out logo or EU on the inside of the ring, along with the gold karat or platinum stamping depending on the metal.
About Gold
18 Karat
18 karat is equal to 75% gold content (18 divided by 24). The other 25% usually consists of metals such as zinc, copper, nickel, etc.
The additional metals in 18K gold serve to make the alloy harder and more durable than pure gold (24K), which is too soft for jewelry.
Gold karat is a measure of how much of the precious metal is contained in a piece made with it.
If a jewelry item is 18 karats, this just means that out of a total of 24 parts, 18 parts of the piece are gold, and 6 parts are made up of other metals.
A significant benefit of 18K is since it is purer then other metals like 10K or 14K, it is less likely to cause an allergic reaction in people sensitive to nickel, if this metal is present in the alloy.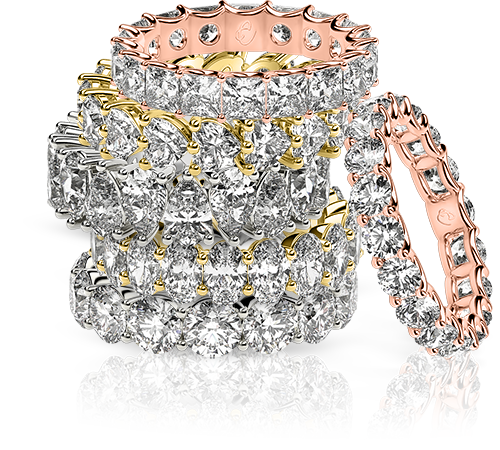 How to Recognize 18K Gold Jewelry
Recognizing 18-karat jewelry is pretty straightforward (as long as the piece has been stamped with its karat number). Usually, you will see a stamp on the item such as 18K, 18Kt, 18ct, 18k, or a similar variation.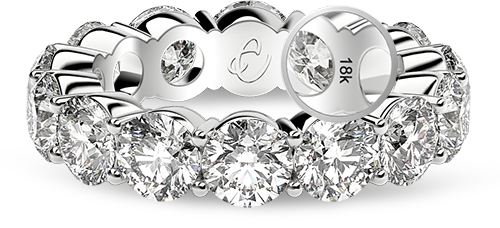 About Platinum
All rings made by Eternity Us are produced with 950 Platinum, which means that the ring is made out of 95% pure platinum and 5% of other metal content. Since platinum jewelry rarely contains 100% platinum, the 95% platinum used in our rings are of the highest and most valuable platinum.
Platinum is mixed with similar metals or non-precious base metals. Generally, the higher the percentage of pure platinum, the higher the value of the jewelry.
Metals used in platinum jewelry usually fall into one of three categories:
Pure platinum

Other platinum group metals (palladium, ruthenium, rhodium, iridium, osmium)

Base metals (copper or cobalt, for example)
How Much Is Platinum in this Piece of Jewelry?
Marketers describe or mark platinum regarding the percentage of pure platinum in the piece. To be called platinum, an item should be at least 50% pure platinum (or 500 "parts per thousand").
If an item is marked as platinum without any qualification, it should have at least 95% pure platinum (950 parts per thousand).
Most platinum jewelry sold in the U.S. is 85% platinum and 15% other metals, either precious platinum group metals and/or base metals.
Labels will look like this:
850Plat. = 85% pure platinum

900Pt. = 90% pure platinum
For items containing between 50% and 85% pure platinum combined with other platinum group metals, marketers should state the amount of pure platinum and the amount of other platinum group metals. For example:
800 Pt. 200 Pd. = 80% pure platinum, 20% palladium

750 Pt. 250 Rh. = 75% pure platinum, 25% rhodium

600 Pt. 350 Ir. = 60% pure platinum, 35% iridium
Platinum jewelry with 15% to 50% base metals also may be labeled "platinum." These platinum/base metal alloys contain from 50 to 85% pure platinum, but the total of pure platinum and other platinum group metals is less than 95%. Labels for this jewelry should include the amounts of pure platinum and other metals in the piece using the full name of each metal and its percentage. (No abbreviations or "parts per thousand" should be used in advertising). For example:
75% Platinum 25% Copper = 75% pure platinum and 25% copper

60% Platinum, 35% Cobalt, 5% Rhodium = 60% pure platinum, 35% cobalt and 5% rhodium
Any item that's less than 50% pure platinum should not be marked or labeled as "platinum."